UX stats show that 88% of online users say they wouldn't return to a website after having a bad user experience.* It's a missed opportunity because a better user experience will lead to a higher conversion rate and better overall findability in Google. 
The importance of UX cannot be overstated. On a larger scale, UX is vital as its goal is to totally fulfil the user's needs, aiming to provide constant positive experiences, that in turn keep a user loyal to the product or brand. 
Do you want to improve your website's UX? We highlight five UX hacks that will point you in the right direction. Start implementing them today and increase your website conversions. Let's dive in! 
1. IMPROVE THE LOADING TIME OF YOUR WEBSITE 
Most websites have a load time between 8 and 11 seconds. This may not seem like much, but each extra second it takes for a site to load, results in a higher loss of conversions. Users are impatient. If a site doesn't display for them correctly right away, it's reasonable for them to assume it's not worth their time. 
An immediate response of the website is key for the users to have the full experience. Especially, if you want them to keep scrolling through your page and convert, at some point. 
Nowadays, there are several tools to find out the loading time of your website. For example, Google's Page Speed Insights. With this tool, you can quickly and easily test the loading time of your website and identify any issues that might be causing a slow loading time. 
To improve the speed of your website, you can do the following:  
Compress all images before uploading them 

Avoid rare fonts: Google Fonts offers a variety of fonts where you can check whether the font loads fast or not

Reduce the number of redirects to your webpages
If it were to happen, that your website still has a loading time, you might want to consider a loading animation. Though these animations should be used with caution. Steve Souders, a High Performance Web specialist, described in "The Perception of Speed" how you can react to users' perception of time and engage with them to effectively increase their waiting time. 
Short loading times, less than 6 seconds: 
Longer loading times, more than 6 seconds: 
Show a time estimation of the loading time 

Explain why the user has to wait 

Make sure the progress bar is always moving
2. PUT THE MOST IMPORTANT INFORMATION FIRST  
Users should be able to identify the goal of the page from the get-go. This means putting vital information on top of the page for the user to see. Research within the field of psychology observed that people often focus their attention on the first and last item of a series. This phenomenon is called the "serial-position effect" and can highly influence the way visitors experience your site.  
You can, for example, place certain buttons or other functionalities in the far left or far right side of your screen. That's why, for example, the button to "sign in" or "register" is so often placed in one of the upper corners of a website or application. It automatically draws the attention of visitors, instead of being "swallowed" up by content in the middle of a webpage. 
3. MAKE YOUR CONTENT EASY TO SCAN 
For a long time, marketers wanted to "hide" the good content, so web visitors stayed longer on their website. Luckily, we moved way past that. Nowadays, we make our content easy to read. Why? Many users aren't even interested in reading everything that's shown on a webpage. Fast, scannable content from the moment they open the homepage - that's what they prefer. 
You can achieve this by using sub headers, lots of white space, and bulleted lists where necessary. This will allow the user to scan your content much easier, giving them what they want faster. 
Besides making your website easier to scan and read, white space can also give it a modern, open and fresh look. By making clever use of white space, you can draw extra attention to your call-to-actions, which can generate more clicks and conversions.  
4. LESS IS MORE - SIMPLICITY IS KEY  
An overwhelming amount of content often makes it hard for visitors to know where to click or where to pay attention to. Simplicity in websites and web design is therefore very important. The more options and triggers your website has, the harder it becomes for the user to navigate through your site. Imagine having to look for content between a plethora of buttons, links and images, that would be quite hard. Once a user has chosen to stay on your site, you want to hook them in with content that's clear and useful.  
There was a time when writing a few good blog posts a month was enough to engage readers and keep them coming back. Today, however, there is much more at stake. Quality content goes beyond the words on a page. It involves several considerations that can influence whether a reader bounces or stays to learn more about your business and what it offers. It's not enough to have good content, you must also create an enjoyable experience for those reading it.  
Valuable content adds to the overall user experience and helps create a successful website. The functionality of the site, design, and content must all work together to attract potential customers. Web design trends come and go, but a clear, well-structured website will never go out of style.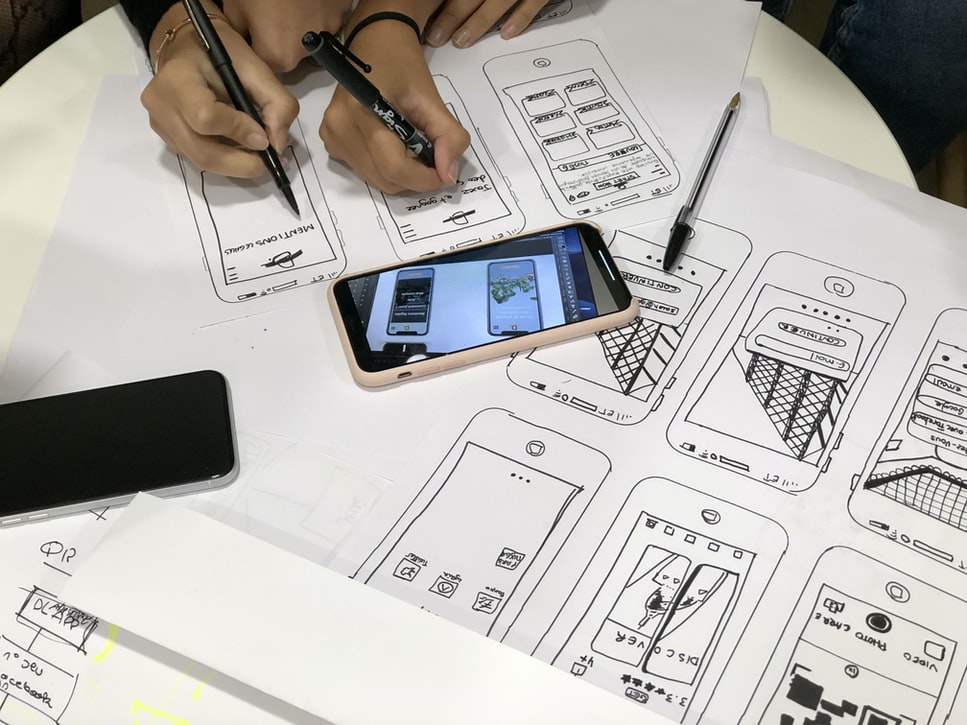 5. MAKE IT ACCESSIBLE FOR ALL DEVICES 
Last but not least, responsiveness. One of the most important parts of UX design. This allows websites to change layouts according to the screen resolution on which the user sees your content. This can vary from desktop to your phone and tablet.  
Responsive design ensures that your website looks perfect on all devices. People are browsing websites at work, on the go, and even in the comfort of their living rooms. Mostly on their mobile devices. Endlessly zooming in and out, you probably know all about it. If your website doesn't work properly, on a user's phone or tablet, he won't even bother to browse your website from another device. To keep yourself, and your visitors - happy, it's a must to pay extra attention to the mobile layout of your website. 
A responsive web design consists of three components: 
Media queries: This is a feature of CSS3 that allows the rendering of content to be adapted to different circumstances, such as screen resolution. For example, media queries can be used to set the background of a web page to change as the window increases or decreases in size.  

Fluid grids: Think of it this way: you can divide a web page into a "grid". These flexible grids will be created with CSS. When the screen size changes, these blocks automatically move to a new layout. The content they contain moves with them. 

Flexible visuals: It is great that the content moves along to a new layout when the user opens a website in a different format. However, it still has to be ensured that 'rich content', such as images and videos, remains within the grid. 
48% of mobile users is annoyed by a bad mobile optimization. And as a result, leave the website more quickly.* Designing mobile first can lead to more profit for your business. And Google ranks for mobile friendliness, so it makes sense to bear this in mind when working on your UX. You may lose potential customers if your website is not mobile first. Your users want you to go mobile. If your website still isn't optimized for this purpose, it might be time to make some changes.  
Key takeaways  
UX is not that difficult and sometimes, less is more. With these best practices you make it simple for your website visitors to navigate your content. Make it easy for them to find important information and get in touch with you.  
Need a little help with setting priorities? Get in touch – we are happy to guide you through the fascinating world of UX design.  
*Research: Rock Content